Experience International Calling (…Without Paying A Fortune)
Type in a country below to see your new calling rates
Calling Card Sent via Email
How To Buy Our Phone Cards
Step 1: Select the phone card you wish to purchase

Step 2: Confirm your order details:
Ensure the quantity is correct
You can remove your item as an option
Move on to account setup by clicking the "Checkout" button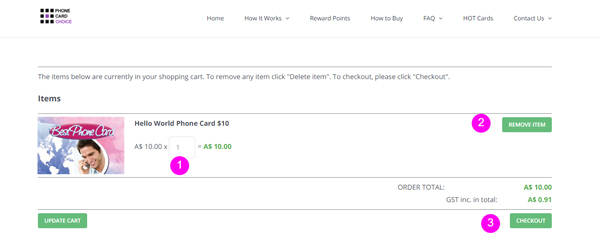 Step 3: Set up your Phone Card Choice account
Here will need to fill out a short form asking for information like name, email, username, password, etc.
This is important as it allows you to manage your account online including recharges, checking order history, setting up PIN-less dialling and more.
Credit Card or PayPal
The most common and fastest way to purchase your phone card is via credit/debit card (Visa, Mastercard, AMEX, Diners) or PayPal.
Top 10 Phone Cards
These are our most purchased phone cards but please use our card rate finder to make sure you are getting the best rates for your specific needs.
Starting Talking Minutes From Now
Start typing in a country name below and we'll find the best rates for that specific country including landline and mobile options.
Calling Card Sent via Email