H2!India Calling Cards
Our Affordable & Cheap India Calling Cards For Hassle Free Calling To India
Absolutely No Hidden Charges Or Service Fee In Our India Calling Cards!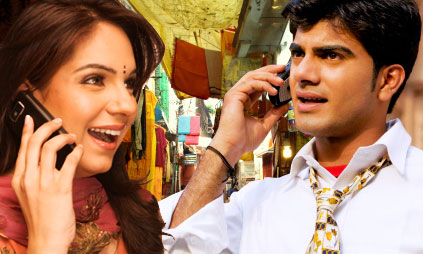 Phonecard choice is now offering you the most affordable India calling cards that are completely free of any hidden charges and service fee! With absolutely 24 hour flat rates, you can call India anytime you want at our incredibly low rates. All the calling cards on this website have a toll free 7 day a week customer service help line so we are here to help you whenever you have any questions or problems with our calling cards. We have a wide range of calling cards that offer you the best choice in terms of connectivity, network and cost to call India.
If you looking for value-for-money calling cards to India, we are your one stop destination. When it comes to telecommunication, particularly international calling, we have the most competitive and reliable calling cards around. Thanks to our superior technology that does not use VOIP our cheap call rates to India have great audio clarity and fast and reliable connection. Buy our calling cards and start calling Indian cell phones and landlines from anywhere in the US from just 3 cents a minute. That is 166 minutes on a $5 card. Buy larger calling card denominations and get free bonus calling minutes! The rates are the same no matter where you call in India. This means you can call any cell phone or land line in New Delhi, Bangalore, Calcutta, Hyderabad, Madras, Chennai, Surat, Jaipur, Pune, Nagpur, Ahmedabad, Lucknow or anywhere in India for one low rate of just 3 cents a minute. Orders are processed instantly so you can start calling right away.
Calling India
At Affordable & Credible Rates

You do not need to worry about the cost of
calling India
anymore. We are at your service with our affordable calling cards to India. You just need buy one of our India calling cards below and enjoy low cost quality calls to India. Calling India has never been more affordable with Phonecard Choice calling cards.

We believe in credibility and customer satisfaction and that is why we have now been selling calling cards on the internet for over ten years. After more than ten years in the industry we know exactly what you want. We believe that you just want reliable service, crystal clear voice quality and incredibly low rates to call India 24 hours a day with no tricks! Do not believe in some of the ridiculously low phone card rates that other similar calling card websites may offer you. They may fool you with their ridiculously low calling card rates that may not even be the same 24 hours a day but then also add on hidden costs in form of weekly or monthly service, maintenance or administration fees. Even if you do not use the calling card, you will be charged a weekly or daily service fee. This is what makes such ridiculously low rates possible. There are even calling cards that will announce that you have a certain number of minutes for the call when use it but your calling card will run out long before the announced minutes have been used.

We guarantee our India calling card to have best card rates in the telecommunication market. So, if you want affordable and cheap calling card to India, select any of our cards below and we will ensure you the best quality calls to India.

India Landline rates
Phone Card
Rate, US$
Connection Fee
Billing Increment
Details
Local access availability
Indian Connection
2.8 ¢/min
Nil
3 min

Go

Go

Indian Connection
Rate, US$: 2.8 ¢/min
Connection Fee: Nil
Billing Increment: 3 min


Local availability




| Price | Talk Time | |
| --- | --- | --- |
| US$ 5.00 | 2h 58min | Buy |
| US$ 10.00 | 5h 55min | Buy |
| US$ 20.00 | 11h 52min | Buy |
| US$ 30.00 + US$3.00 bonus | 19h 37min | Buy |
Phone Card
Rate, US$
Connection Fee
Billing Increment
Details
Local access availability
Namaste Phone Card
4 ¢/min
Nil
2 min

Go

Go

Namaste Phone Card
Rate, US$: 4 ¢/min
Connection Fee: Nil
Billing Increment: 2 min


Local availability




| Price | Talk Time | |
| --- | --- | --- |
| US$ 5.00 | 2h 5min | Buy |
| US$ 10.00 | 4h 9min | Buy |
| US$ 20.00 | 8h 19min | Buy |
| US$ 50.00 + US$5.00 bonus | 22h 55min | Buy |
India Mobile rates
Phone Card
Rate, US$
Connection Fee
Billing Increment
Details
Local access availability
Indian Connection
17.1 ¢/min
Nil
3 min

Go

Go

Indian Connection
Rate, US$: 17.1 ¢/min
Connection Fee: Nil
Billing Increment: 3 min


Local availability




| Price | Talk Time | |
| --- | --- | --- |
| US$ 5.00 | 28min | Buy |
| US$ 10.00 | 58min | Buy |
| US$ 20.00 | 1h 55min | Buy |
| US$ 30.00 + US$3.00 bonus | 3h 10min | Buy |
Phone Card
Rate, US$
Connection Fee
Billing Increment
Details
Local access availability
Namaste Phone Card
30.4 ¢/min
Nil
2 min

Go

Go

Namaste Phone Card
Rate, US$: 30.4 ¢/min
Connection Fee: Nil
Billing Increment: 2 min


Local availability




| Price | Talk Time | |
| --- | --- | --- |
| US$ 5.00 | 15min | Buy |
| US$ 10.00 | 31min | Buy |
| US$ 20.00 | 1h 5min | Buy |
| US$ 50.00 + US$5.00 bonus | 2h 59min | Buy |